Testimonials...see what our past customers had to say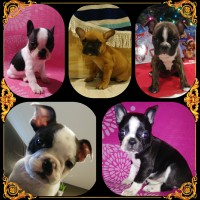 "Wonderful!  He is doing great going potty outside, eats like a little champ.  Checking out the house.  Our shih tzu is still skeptical but he will adjust...he's a very sweet little guy thank you so much."
Stacey M.  Jackson TN
"He is doing good. Using bathroom outside with no accidents so far. Eating well. Hated the crate last night. But that will be a work in progress stays right at my heels. Love him already"
Amanda E. St Louis Mo
"We are in love. We surprised my husband. He is overjoyed. Thank you! No name yet."
Beth M. Ann Arbor MI
"Thank you again!! We are all so happy!!"
Chris T. Columbus OH
"Yes we love this little guy. Thank you! We still haven't yet. They can't agree. They like: Tank (oxymoron cuz of size), Buddy, Rocky and Chip"
Kathy S. Charleston WV
"She's fantastic! Krysten took her to the vet today and got her checked out (no issues at all). Shes doing well with crate training and potty training. I'm guessing you had already started on both of those based on how well she's doing! She's starting to get a little more active now that she's getting used to the condo!"
Heather M. Springfield IL
"Going good! Went to vet this morning...shes a healthy pup, up to 6.5 pounds. Working on housebreaking...picking up "sit"....shes a sweet little thing 😊"
Sullivan F. Indianapolis IN
"Hi! He's doing great :) we changed the name to Packer, he's doing really well. We had a vet appointment this morning & all is well 👍 he's very calm but loves to run around with us too. We couldn't be happier! Thanks again"
Jasmine G. Pittsburgh PA